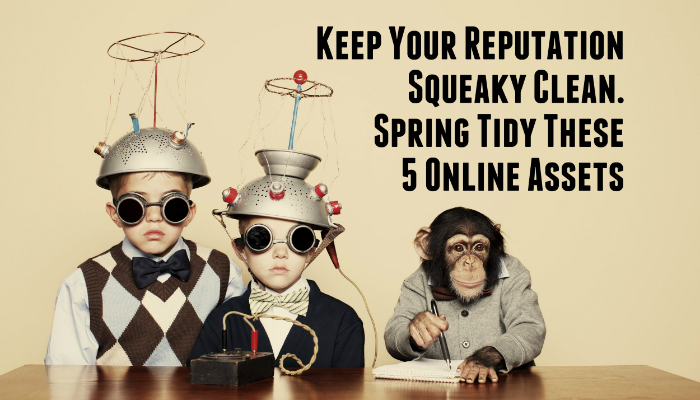 I never think about dusting – unless I notice it hasn't been done.
Ugh.
Just like unsightly cobwebs and dust bunnies can compromise the feeling of comfort in your home, outdated online profiles can mar an otherwise flawless experience with your business online.
If you're anything like me, you don't exactly look forward to spring cleaning, but you will get some satisfaction once it's been done.
Now, I am certainly not perfect. I get emails at least once a week letting me know a link is broken. But that's just being human.
Let's get to it.

Here are the 3 web assets you're going to want to spring clean.
Social Media sites like Linkedin, Facebook, Twitter, Instagram, Pinterest, Snapchat, Vine, YouTube/G+
Directory Sites (Yelp, etc.) To get a full list, Google your name or your company name.
Your Website
Here is the 6 item web asset spring cleaning checklist:
1.Your profile pic.
The wise Mari Smith says, if you've gained or lost a bunch of hair or weight, you need to update your profile pic on social media or blogs ( I use Gravatar for my image on wordpress).
I had coffee with Vince Fowler he other day and we had an amusing conversation about ridiculously outdated profile pictures.
I know, aging is hard, but you need to be recognizable from your profile picture. It should not be from 5+ years ago…
Another profile picture item to consider…
Keep it professional.
Your ex cropped out of a pic taken after a few too many at the Calgary Stampede or showing a lot of skin both send a message about who you are, and it may not be the message you're looking for as a professional. #justsayin
2. Your "about" section.
If you're a solo or micro entrepreneur, your business may have trouble keeping up with you.
As you evolve, your business will naturally as well.
Chances are the "about" or "profile" section on your social media and directory websites could use an update to better articulate who you serve and the problem you solve.
The tabs section on Facebook – where you can integrate your facebook page with your email list or other promotions, may not be working.
In fact, more often than not, this section is broken.
This brings me to …
3. Your Banner/Timeline Image:
The dimensions if these images on social media especially tend to change fairly frequently.
Check to make sure the banner or timeline image that you uploaded in the past, still fits within the recommended dimensions.
For extra points, update this image if you haven't in some time.
Keep it fresh and keep your community interested with the most up to date version of your business.
4. Broken Links
Tending to broken links could very well be a full time job.
Tedious? Yes.
Necessary? Heck Yes.
Go through your social properties and your website and click on all the links and make sure they still work.
Update all the ones that don't.
This is a good activity for the afternoon after lunch slump

5. Call to action
Are you using a call to action yet?
A call to action is a very clear request to perform the next step to convert your viewer to a customer.
Whether you're offering a free demo, consult or want to invite people to call you, make sure you're have a clear call to action.
You can't get a yes if you don't ask!
There's a new(ish) button for Facebook pages to create a "call to action", like Learn More, Call Now, or Watch the Video..
Which brings me to multimedia…
6. Use of Video.
As my friends Sue Ferraira and Trisch Lorren will not hesitate to tell you… Video is the most powerful way to tell your story in today's marketplace.
It's a virtually instant credibility boost, improves brand memory, connection and trust.
For a do it yourself option, use the built in video capabilities of your smartphone to film a quick intro video and post it everywhere.
Here's a link to one of my intro videos.
FYI this was filmed on my iphone.
If you'd prefer to get a professional to help, or don't like the idea of showing your face on video, consider an animated explainer video or a professional videographer.
7. TELL ME
What did I miss?
What else should be added to this list of web spring cleaning?
If you found this valuable – Please LIKE it and consider SHARING with your network.
Happy Spring Cleaning!