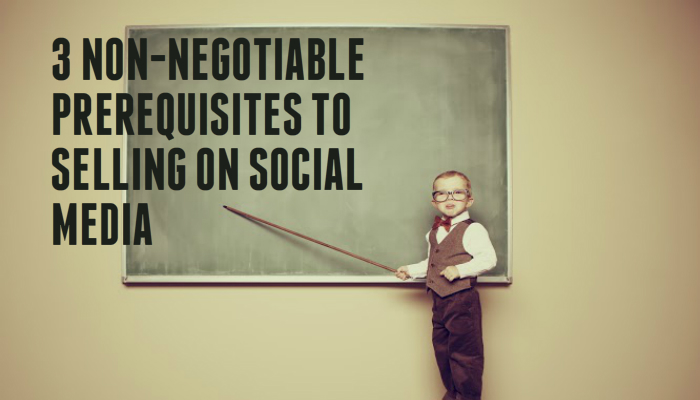 If you want to get sales from your social media efforts, then you are certainly not alone!
The time and money you're investing in your social media efforts can and should be profitable.
If you're not quite there yet, I am going to share with you 3 of the non-negotiable pre-requisites for successfully selling on social media.
These may just be the missing pieces to your social selling strategy.
(This material was taken from the talk I gave May 7th 2016 at Social Media Camp, entitled Socializing Your Sales Funnel: Converting Fans and Followers to Paying Customers. Get your copy of the entire presentation here. )
Build Trust: People buy from those that they know, like and trust.
You need to build trust online in order for people to even consider purchasing from you.
How do you do that?
Be consistent in how often you're posting, what you're posting and what all your social profiles and website look and feel like. You've got to create a consistent feel to alleviate the subconscious niggle consumers get when things just don't feel right.
You also need to have what's called social proof, which are things like positive reviews and testimonials, media mentions, and any designations you've earned. For more details on Social Proof, check out my interview on CNN on Social Proof
If you're part of any associations add those logos to your website as well. They will act as an implicit endorsement of your services.
Building social proof using the above mentioned tactics are one of the most powerful ways to help build trust, and can often be the factor that tips a prospect over into a customer.
Build Community: Get exposure, generate credibility, trust.
Every single time someone likes, shares or comments on your posts on social media, they're implicitly endorsing you.
In plain language, this means they're telling their network "this guy isn't so bad".
What's also happening with each share, retweet, plus one or comment is that interaction becomes part of the news feed. And now your name is now getting additional exposure to the network of the person who interacted with your share.
For these reasons, it's a great idea to build community by "giving to get". Sharing other's posts, commenting on other's posts and actively promoting other people with invoke the law of reciprocity and incentivize the people you're interacting with to interact with you back.
Once you have an engaged community, you can then promote yourself.
Ask People To Act: With A Call To Action
You need to have a call to action in order to get people to, you know, act.
Whether you want people to sign up for a free trial, contact you for a consult, sign up for your newsletter, go to your website or watch more videos – whatever it is you need to ask people to take that action.
It's an old saying in sales – you can't get a yes if you don't ask.
What's important to remember though, is you will likely need to ask people to take a few actions before they're ready to buy, so start small.
Ask for the action and as long as you've built trust and community, you will get it.
Thanks so much for watching.
If you like this video please like it and consider sharing with your network.