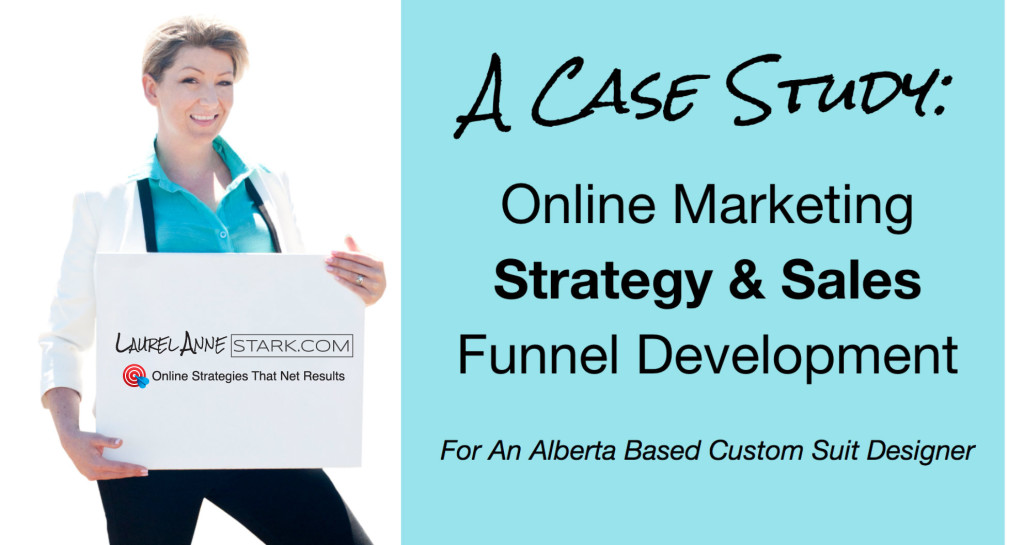 Mid-June 2017, my contact in the marketing department was due to present a cohesive, easy to understand and implement online marketing strategy to the entire team.
Together over the course of two months, we worked to help my contact in the marketing team craft an online marketing strategy that the company could easily implement internally.
This is where they started, what we did, and the results of our work together:
About the Company:
Suits By Curtis Eliot is an up and coming, force to be reckoned with in the men's fashion world.
Heralding from Edmonton Alberta, with a second retail location in Calgary AB, Suits by Curtis Eliot has garnered international attention, highlighted by their invitation to New York Fashion Week.
Suits By Curtis Eliot is a custom suit designer, tailored for the modern gentlemen. Their clients include such pro sports celebrities as the Gretsky family.  From professional NHL and NFL players, to leaders in their community, to financial, sales and legal professionals, SBCE provides perfectly tailored, completely custom suits at extremely competitive pricing.
The problem:
SBCE experienced a huge degree of success early into their company history. The quick growth had them focused on providing their clients the best possible experience, instead of their internal processes.
In terms of marketing, they had great success on social media in terms of likes and followers, but they weren't totally confident their efforts on social media were effectively driving in store sales.
They knew they weren't doing the best job with search engine optimization (getting on google) or following up with their clients via email.
They knew they was room to better leverage their multiple appearances in the news media and they weren't totally sure how to accomplish all of these goals in a way that wouldn't take up all their time.
Why they chose me:
Founder, Sean Farmer, had his assistant reach out to me as she'd seen me present on the topic "Socializing Your Sales Funnel: Converting Fans and Followers To Paying Customers" and was impressed with the practical nature of the information I presented.
I also worked with them to create payment terms that worked for their organization, facilitating their ability to get a grant to pay the fees I charge.
What we did together: Develop an online marketing strategy that could be used.
We scheduled 8 phone calls over the course of two months.
In those calls we worked through my proven system for developing an online marketing strategy.
Together we got clear on the business objectives, what was and was not working, how best to and achieve the goals.
Then, we actually built an online sales funnel together: emails, sales pages, newsletter sign-up offers – you name it!.
During these sessions, the marketing team was trained on sleeves-up-get-it-done tactics for
: optimizing the website for search engines
: blogging effectively
: sending compelling email newsletters
: creating graphics for each blog post
And much more.
The final result:
Marketing staff that were confident, clear and trained on exactly what to do, when, in order to drive sales from the internet and measure each and every activity for effectiveness.
Staff that had dramatically increased their knowledge, skills and confidence in implementing day-to-day online marketing tactics.
A 20+ page online marketing strategy was created that could be used as the basis for the presentation and aid in staff training efforts going forward.
A checklist that included specific-to-the business tasks to be performed each day, week and month in order to see reliable results.
The online marketing strategy document included:
Clarity on the SBCE ideal clients – who the 

most profitable, enjoyable clients were 

and 

how to attract more of them

 using online tools.

What the current sales process looked like – what was working and what wasn't- and what components should be duplicated and leveraged online.

What the current online marketing efforts looked like – and how to 

design a system

 (from scratch) for the entire year 

that doesn't take all day to execute.

An easy to follow, clear checklist of the 

specific actions

 to take online to generate additional revenue.

An 

automated online selling system

: including the 2 most important website pages that sell for you 24/7.

The social media and email list building strategy 

for the entire year.

Integrated online assets: website, email, social, video, media, blogging, search engine optimization so every piece of 

the strategy works 

that much harder to make money.

Exactly what steps to take

 each day, week and month to propel your business forward – and how to succeed on social media in just 17 minutes a day.
What the client said:
Would SBCE recommend working with Laurel Anne Stark to create and develop an online marketing strategy
 and sales funnel?
Click here to learn more about working with me to create an online marketing strategy and sales funnel.