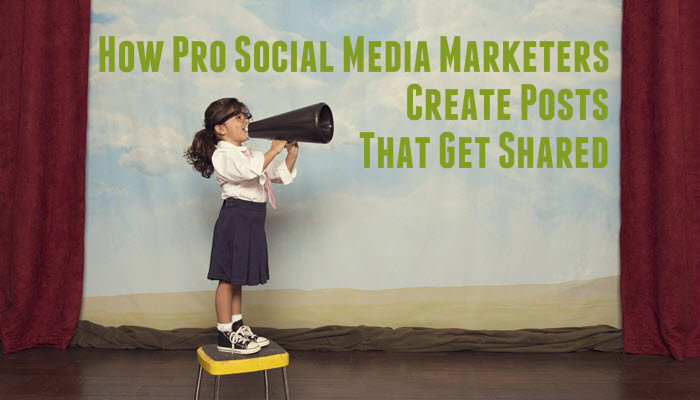 The sound of crickets may be peaceful, but it's not the response you want from your social media posts.
Getting your social media posts shared can provide a huge credibility & exposure boost for your business.
If you're taking the time to create content, you want it to be as effective as possible.
3 ways shared posts help your business:
If your objective is to get more exposure build credibility and generate leads for your business, creating shareable social media posts is a super effective way to meet those objectives.
Three benefits you get every single time someone in your network shares your post:
You have just been implicitly endorsed by that person.

This means that regardless of what else is being said users who see that your post has been shared believe the person sharing it knows likes and trusts you.

You get more exposure to a network that you cannot access on your own.

The person who does the sharing is getting you exposure to their network.

Increases the views for each post.

Each time your post is shared, it provides an indicator to that social site that social network that your content is popular.

Popular content will stay on the timeline for longer and take up more real estate.  This gets you a lot more mileage out of each post.
What makes a post "shareable"
There are two factors to take into consideration regarding getting people to share your posts.
First is the people themselves and how they feel about you and the second is the post itself and how they feel about the post.
Remember: what you post is far less important than the quality of your networking on social platforms.
By engaging with people on social media you make them feel seen, acknowledged and important.
Each notification appeals to our ego & triggers our dopamine receptors to receive a notification of engagement.
So by engaging regularly with others on social media they begin to like you!
In the seven habits of highly effective people Stephen Covey states one of the habits is making deposits in other's emotional bank accounts.
"The more you engage with people on social media by commenting and sharing on their posts, the more likely they are to reciprocate."

The 3 ingredients to a sharable post:
Assuming you are actively nurturing your community by engaging on social media, there are 3 ingredients that influence whether or not your post is "shareable".
Ability to catch their attention and the ability to keep their attention
It's relevance to the person seeing it
It's value to the person.
Ways to catch attention on social media:
As you may have noticed multimedia does really well on social media sites.
Videos and images take up more space on the timeline and they also stay for longer on the news feed.
If you're not posting multimedia or photos with each text update, start now.
5 Tools I use to create videos and images for my social media posts.
To create the ever popular Inspirational quotes, you can use tools like:
canva
com
The Insta quote app.
Any content you produce that shows behind the scenes at your company will also be well received:
Take photos using your smart phone
Use your iPhone to take videos on your device and direction we upload to YouTube
Other tips for creating video for use on social media:
You can do product demos, interviews and summarize your blog posts.
You can use Google hangouts and interview people or have a group conference. These interviews will automatically be saved and uploaded to your YouTube account.
You can also do quick teaser videos on Instagram
You are only limited by your creativity!
Ask yourself – Is your post relevant?
Remember the context of social media.
People are there to be social and to be entertained.
There are three rules of thumb for the types of content to post.
Entertaining
Informative
Inspiring
Ask yourself – Does your post provide value?
To answer this question, you want to refer back to your customer profile or your avatar and reflect on what their pain points are, what matters to them and what they struggle with.
Content created around these things will always be more effective and content that isn't.
If you don't know what your customers struggle with then survey them.
You can also do analysis of what people are typing into Google, or check out what your competitors are doing.
What has your experience been with creating social media posts? I'd love to hear about it in the comments below.
If you found this post valuable, please like it & consider sharing with your network!