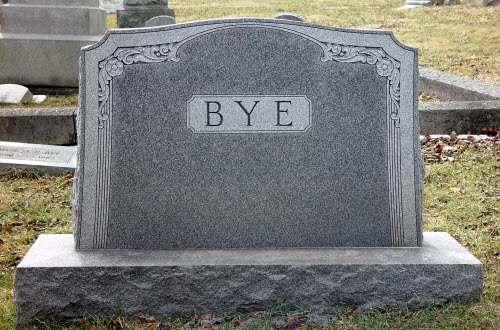 Please, a moment of silence for the business-to-business social media networking site LinkedIN.
You may be thinking, "Laurel, what are you talking about ?  LinkedIn's not dead."
But you know what? I'm predicting it's going to die in relevance, and here's why:

The Gloves Are Off! Facebook vs. LinkedIn
Facebook announced recently it's jumping into the job seeker's marketplace, which was the reason that LinkedIn came to be in the first place – so job seekers could connect with employers and vice versa.
Now, Facebook is going to start letting employers actually post and advertise jobs on the newsfeed of Facebook.
Because pretty much everyone's on Facebook I think they could have a real impact on LinkedIn's market share.
LinkedIn's going to h – e – double hockey sticks
Hockey analogies aside, sInce LinkedIn was purchased by Microsoft I've been pessimistic about LinkedIn.
I don't know about you, but my experience with Microsoft has been absolutely terrible.
It seems like their business model is going to take the LinkedIn contacts that you have and try to integrate them with the contacts that you have if you're using Outlook, and to encourage you to continue to use Microsoft's software.
I don't know about your experience, but Outlook actually just, yeah, killed my computer, so I switched to Mac.
" Microsoft buying LinkedIn makes me think they're just going to ruin it. "
Historically, I love LinkedIn in terms of a lead generation source and to get me in front of the people that I am trying to market to, because of course, I'm in the business of helping to other businesses.
Since the acquisition, If you've been posting to Pulse, which is the LinkedIn blogging feature, you may have noticed that only a fraction of the people can actually see your blog posts than before.
Reach has declined, which means you're not going to get as much exposure to your target audience as you would have before Microsoft took over.
Alignable, the rookie, might take it away!
Alignable is a relatively new social media networking site for businesses to connect with other local businesses and network within those local groups.
I've been on there playing around for a couple weeks now, and you know, I have to say, I really like it.
There's an ease of use that's there. You can promote your business for free. And so far, I've had a lot of success with it. Their customer service representatives have reached out to me via email and other platforms – amazing!
For these
These three points are just a few reasons LinkedIn is going to end up dying.
I'd love to hear your thoughts.
Do you use LinkedIn right now for business-to-business marketing?
Are you thinking about it?
Have you been doing it in the past and not so much now?
Are you going to use Alignable?
Please weigh in with your comments below. I'd love to hear what you have to say about my prediction.
Thanks so much for checking this post out, and you can visit me on my website or YouTube for more online marketing tips at www.laurelannestark.com.