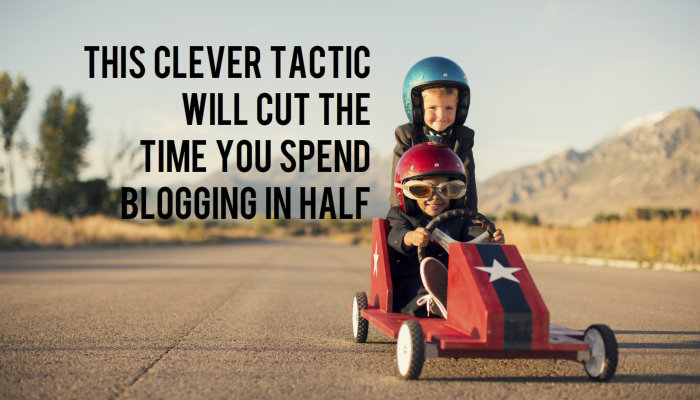 Blogging is time consuming.
It's because of this that so often blogging gets put on the back burner.
However, Companies who blog receive 97% more links to their website – (Source Hubspot)
I'm going to show you exactly how to slash the time you spend on your business blog- by 50%.
By repurposing and summarizing posts you find on social media you can:
Cut the time you spend blogging in half

Attract more links to your website

Piggyback off popular content to get more likes and shares.
Check out this video for exact, step-by-step instructions for how to repurpose social media posts on your blog.
Write a blog for your business in only 5 minutes:
Step One: Open Your WordPress Blog
If you've got a WordPress site, make sure that you're logged in and you're in the posts section.

What I want you to do is click on "add posts".
Step Two: Go to a Social Media Site
Now, I'm going to go to Facebook, I'm going to take a look at an article that I want to share with my website visitors. For example, I've got one here that talks about the Remembrance Day ceremonies in the Calgary Herald.
Step Three: Repurpose The Media
First, I'm going to open this up in a new tab.
I'm going to click the link; open it up in a new tab.
I'm going to save this image as well.
I usually need to click on it first. Click on this, and right click "save image as". I'm going to call it "post1". Now I have the link and the image.
So, add new post. I'm going to call this Remembrance Day Ceremonies in Calgary.
Here what I'm going to do is I'm going to copy a little bit of this text here, then:
I'm going to paste it into the blog.

I'm going to write this text that says "Click here to read entire article."

I'm going to select this text here and click the link button.

Here is where I'm going to copy the link of where the article actually lives.

I'm going to paste it in the URL.

I'm going to click "Add link".

Then, I'm going to add the image. Click "add media", upload files, and then it's in my downloads–post1.

Select the image that you saved from the article itself and then click "insert into post".
Step Four: Add your two cents worth:
What I need to do is add my two cents worth, so it's not complete plagiarism.
I'm going to format it so it's like a heading. Because this is regarding Remembrance Day, I want to make sure that it is published on that date, which is a little while ago.
Step Five: Publish
You can post this anytime in the future or in the past as well. Click, "okay" and "publish". And we're done.
Isn't that easy?
If you liked this post, please share it.
I'd love to hear your blogging for business challenges and what your thoughts are on repurposing social media posts!