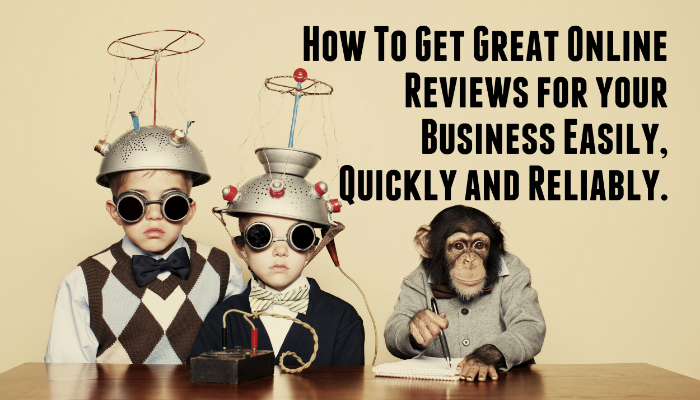 An estimated 70% consumers say online reviews influence their purchasing decisions.
If you cringe just thinking about a customer comparing your reviews to your competitors – than pay attention.
I'm going to show you how to implement a system that helps you get a glowing review, from every customer.

Imagine, your online reputation will soar, your sales prospects will be more plentiful and you'll sell more often, all by just implementing these easy four steps…
Four Steps To Getting Glowing Online Reviews:
1. Prepare your customers
and let them that you are that you are going to
ask them
for a review.
Somewhere in the sale process I usually say something like, "I want the results that I get for you to be so great you are going to give me 5 star reviews on all my social media and refer me to all your friends."
I've planted the seed in their minds and I have let my client know I will be asking for a review – and a referral – later.
2. The second way to get great reviews—and this may be obvious—is to provide awesome service.
You want to over deliver.
Give your clients more than they expect for the dollar that they are spending with you.
Great service is the key to getting great reviews!
3. Ask the customer for their testimonial.
Again, this seems obvious, but if you want something you will have to ask for it.
Send your client an email and say,
"Hello Client,  As per our initial conversation, I want to follow up with you and ask you if you would be comfortable providing an online review of the service you received with me."
Here is where you want to make make it really easy for them.
Make sure you have your links to all your social media properties. Below I have provided a template you can copy and paste over and over again. (Don't forget to replace the links with your own).
Don't expect your customer to go and find you on social and do that extra legwork.
Make it super easy by providing links right there in your email.
4. Offer an incentive.
The last way to get amazing reviews for your business consistently is to offer an ethical bribe or an incentive.
I'll often offer my clients a small discount on their next product or service or sometimes I'll also do a contest, like,  everybody who reviews me this month will be entered to win a prize.
Giving somebody an incentive over and above doing good deeds is a great way to get something to do something.
I hope you found this tip valuable, if you did, please like it and consider sharing with your network.
Thanks for watching!
Your Cut & Paste Templated email to request an online review from your client.
Good afternoon Client name,
Thank you again for your business!
It was a pleasure working with you on your INSERT SERVICE HERE these past few days.
As mentioned, if you'd be comfortable providing a review of your experience with me, I'd be happy to offer 25% off your next consulting purchase.
You could review me
On Facebook, here: https://www.facebook.com/laurelastark/reviews
On Google + here: https://plus.google.com/b/103038386465762180741/+ThenewmediagroupCa/about
Or LinkedIn here: https://ca.linkedin.com/in/laurellindsay – following the steps below:
Recommend someone from their profile:
Go to the profile of

the 1st

-degree connection you'd like to recommend.

Move your cursor over the Down arrow next to the button in the top section of the profile. The button name may vary.

Select Recommend.

Follow the steps to write the recommendation.

Click Send.
If you could comment on:
The Problem You Had

How I Helped

The Outcome You Received

What You Would Tell Others Considering Hiring Me/ Would You Recommend Me.
That would be so appreciated!
Have a wonderful rest of your week, and we'll be in touch!