If you've ever been the recipient of a bad online review of your business, you may find yourself frustrated by the apparent lack of control we as entrepreneurs have over things being said about our business – especially if they're not true.
What proactive steps can you take to protect your business, and how do you best handle a peer review gone wrong?
1. Adapt your mindset.
The worst thing you can do is tell yourself this article isn't relevant to your business and click away.
Seriously.
We need to adapt in order to survive and thrive, and today's consumers have more power than they've ever had to affect our success.
70%  of Canadians online trust consumer reviews. (BDC, 2013)
Negative sentiment can go viral, quickly – as exemplified by the Applebee's social media nightmare – and can be very difficult to manage.
Understanding the change in buyer behaviour and accepting that it's not going away, frees you up to take in the following information to help protect your business.
2. Get informed:
Increasingly Canadian consumers such as you and I, rely on the web to make our purchasing decisions.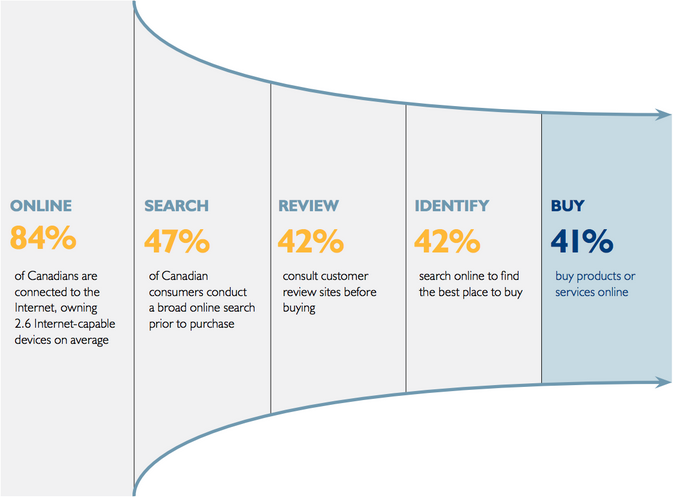 1. Canadians spend on average 2.5 hours a day online; on social media, watching videos, & researching products and services. ComScore, 2014
2. Nine out of 10 consumers claim to use their smartphone for pre-shopping activities BDC 2013
3. 70% of Canadians online trust consumer reviews. (BDC, 2013)
None of this is particularly surprising.
The widespread adoption of web connected smartphones is not a new phenomenon.
In fact many older and wiser of us lament the pervasive nature of these devices and their impact on social connection –  and more practically – our ability to walk down the street without literally running into people distracted by their smartphones.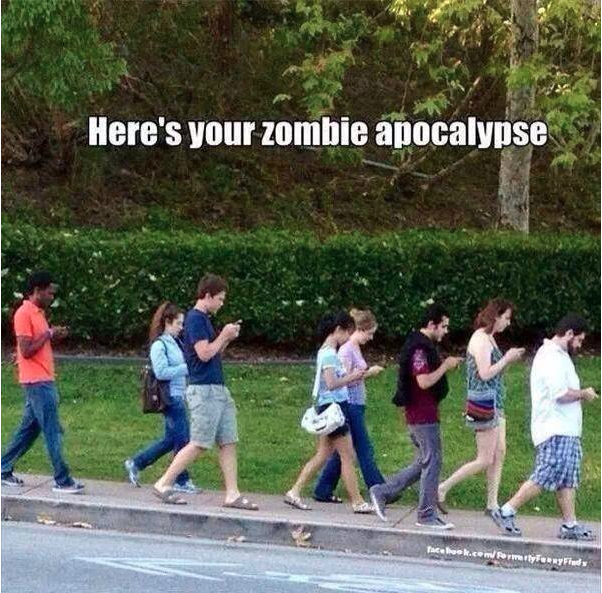 Beyond being a mildly irritating obstacle to efficient walking, this change in how we as a culture interact has widespread implications for today's business owner.
The constantly connected state of today's consumer – specifically – your customers – means your customers shape your brand's reputation.
Customers and the public at large (reasonable and otherwise) can seriously impact your ability to acquire new customers and maintain your reputation.
3. Know that negative sentiment goes far beyond review sites:
You may have heard of "reputation management" in the context of managing reviews of your business, or even been approached by a less than integrity based business offering you positive reviews of your business, for a price.
But beyond the formal review channels, people can leave negative sentiments on your Facebook page, in response to a post on social media…and almost anywhere else on the web.
4. Start listening:
Google your business name to see what comes up. You may be surprised at the places it's listed and what people are saying about your company.
If you are surprised, it's a sign to implement some practices internally to start monitoring your company's reputation.
You can either manually conduct a search regularly or implement an automated solution to alert you immediately of any new conversations about your business.
Here's a handy list of 5 tools to help you monitor your online reputation from Social Media Examiner.
5. Address any and all reviews.
You may be tempted to ignore bad reviews or complaints, but believe it or not it makes you look worse if you don't reply publicly.
Here are 5 tips to responding to reviews from Google My Business.
Tips for responding to reviews
Business owner responses allow you to build relationships with customers, but they're also public. When replying to your customers, keep the following guidelines in mind:
Be nice and don't get personal. This isn't just a guideline–it's also a good idea as a business owner. It's difficult to win an argument with a frustrated customer, and you want to avoid burning bridges. Keep your responses useful, readable, and courteous. In addition, responses should comply with our local content policy.
Keep it short and sweet. Users are looking for useful and genuine responses, but they can easily be overwhelmed by a long response.
Thank your reviewers. Respond to happy reviewers when you have new or relevant information to share. You don't need to thank every reviewer publicly, since each response reaches lots of customers, not just one.
Be a friend, not a salesperson. Your reviewers are already customers, so there's no need to offer incentives or advertisements. Tell reviewers something new about your business, or share something they might not know from their first visit.
6. Go above & beyond:
The tone and speed of your response to a bad review is where you can really make or break your reputation.
In this CTV news clip, I was asked to comment on what appears to be a fraudulent sale of goods by a household brand.

This would never have become a news story if the response to the customer's complaint on their facebook page hadn't been a canned response to call their 1 800 number – where the customer didn't get a response.
In the case studies above, with Winners & Applebees, both responses to the negative sentiment were woefully inadequate and appeared completely disingenuous.
Because customer sentiment can so powerfully and permanently affect your reputation, if you are in the wrong (like I believe Winners was ) you need to go above and beyond-
1.Get the customer's information
2. Make an effort to get in touch with them right away.
3. Work to resolve the issue to their satisfaction
4. Once you get agreement on a solution, ask if the customer will then update their post with details on how you came through for them.
5. Going forward – work with your social media manager to create a policy for addressing unhappy customers in a way that shows you actually care.
7. Be proactive
By actively soliciting positive reviews- and incentivising your customers to do so, you can combat any negative and unfair reviews with a steady stream of positive reviews.
Copy and paste this templated email and send out to all your happy customers;  ( just replace the links with your Facebook & Google Plus page links before you send )
Dear customer,
Thank you so much for your business.
Please- tell us how we did!
Would you be so kind as to post a review for me on my Facebook page or my Google page?
I really appreciate you taking the time to give me your feedback!